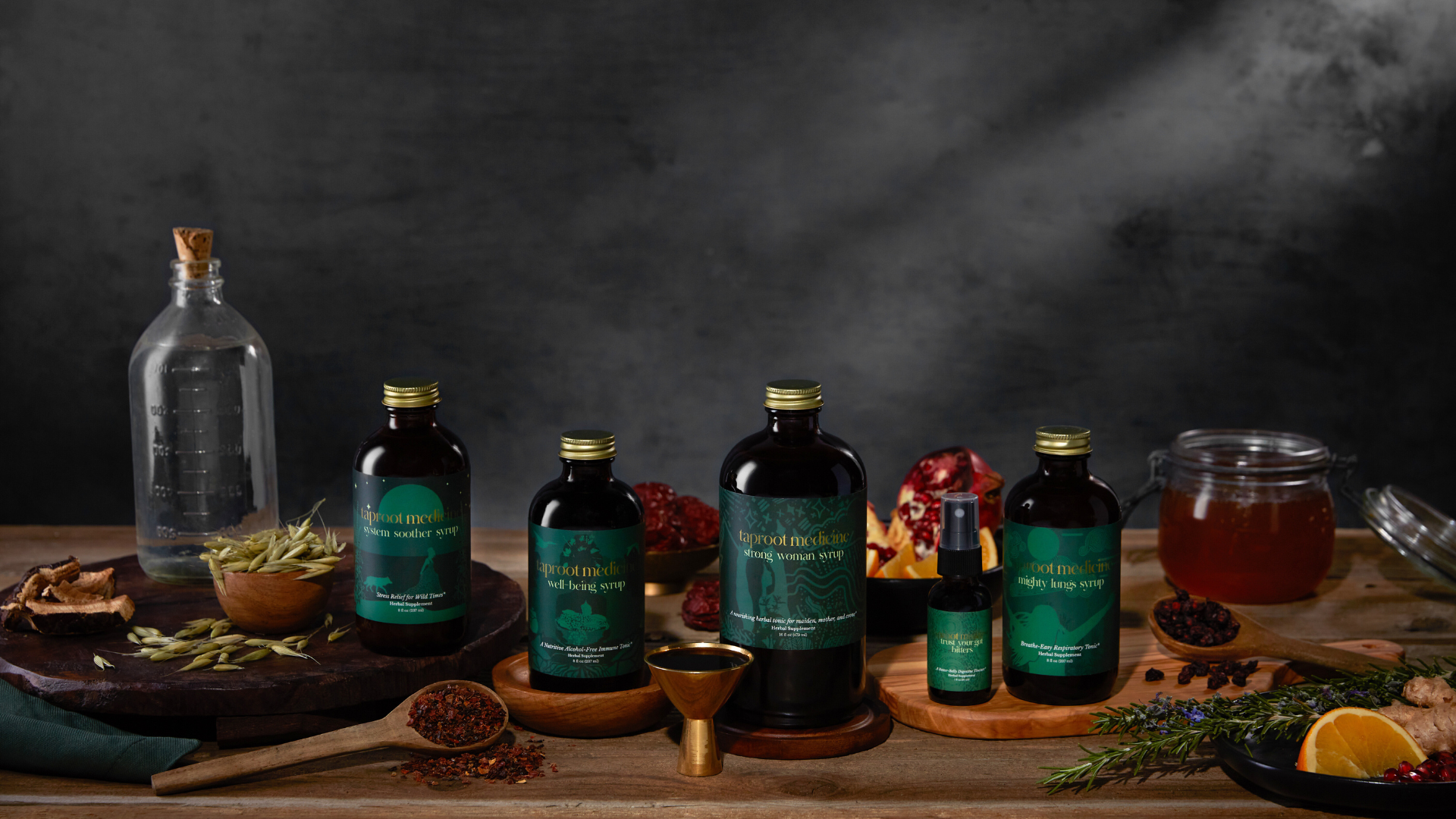 Potent Herbal Medicines
Taproot Medicine crafts potent herbal medicines that are easy on your body, easy on the earth, and easy to enjoy.
Our medicines are powerful and gentle, formulated for easy absorption of each plant's healing properties.
Every one of our delicious syrups, tinctures, and boosters are made with care, in deep relationship with the land, the plants, and our bodies.
A truly magical medicine
I have struggled with regular menstruation since I was 13 years old (I am now 37). Through a lot of effort and trial and error and big changes to my diet and health I started having a cycle every other month in 2021 but I still couldn't get regular. In early 2022 I discovered Strong Woman Syrup and taking it regularly has helped me to have a regular cycle every single month. It tastes good and I look forward to taking it every day. I'm super thankful for this product. -JT.
LOVE this tonic!
I smile every single time I take my Strong Woman syrup! It tastes amazing and aids in keeping my iron levels on point. Thank you! - RoRo
Strength from a tonic
I have been taking Strong Woman Syrup for years and whenever I run out, my body notices it. The Syrup gives me vitality, personal strength, and support. As a 73 year old woman, I feel I will never be too old for Strong Woman Syrup. Actually, I probably need it more than ever now. - Cindy O.
A valuable investment
I've been taking System Soother for ~6 years and I give it 6 stars out of 5.It has helped me through major life changes and challenges. The impossible becomes possible with enough resources, right? This product is a major player on my support and self care team. An extra bonus is that it tastes delicious. Do yourself a favor a try it! - Dawn T.
A must have in every home!
Your Well-Being Syrup is a tasty addition for all the family. An easy way to boost our immunity throughout the changing seasons, my children love this tonic and love taking it! Have it by the spoonful, add to warm water and honey, or in the summer, add to bubbly water….. no matter which way you take it, it's a sure way to boost the immune and spirit! I would highly recommend for every family; have this stocked in the fridge at all times!! - J.L.