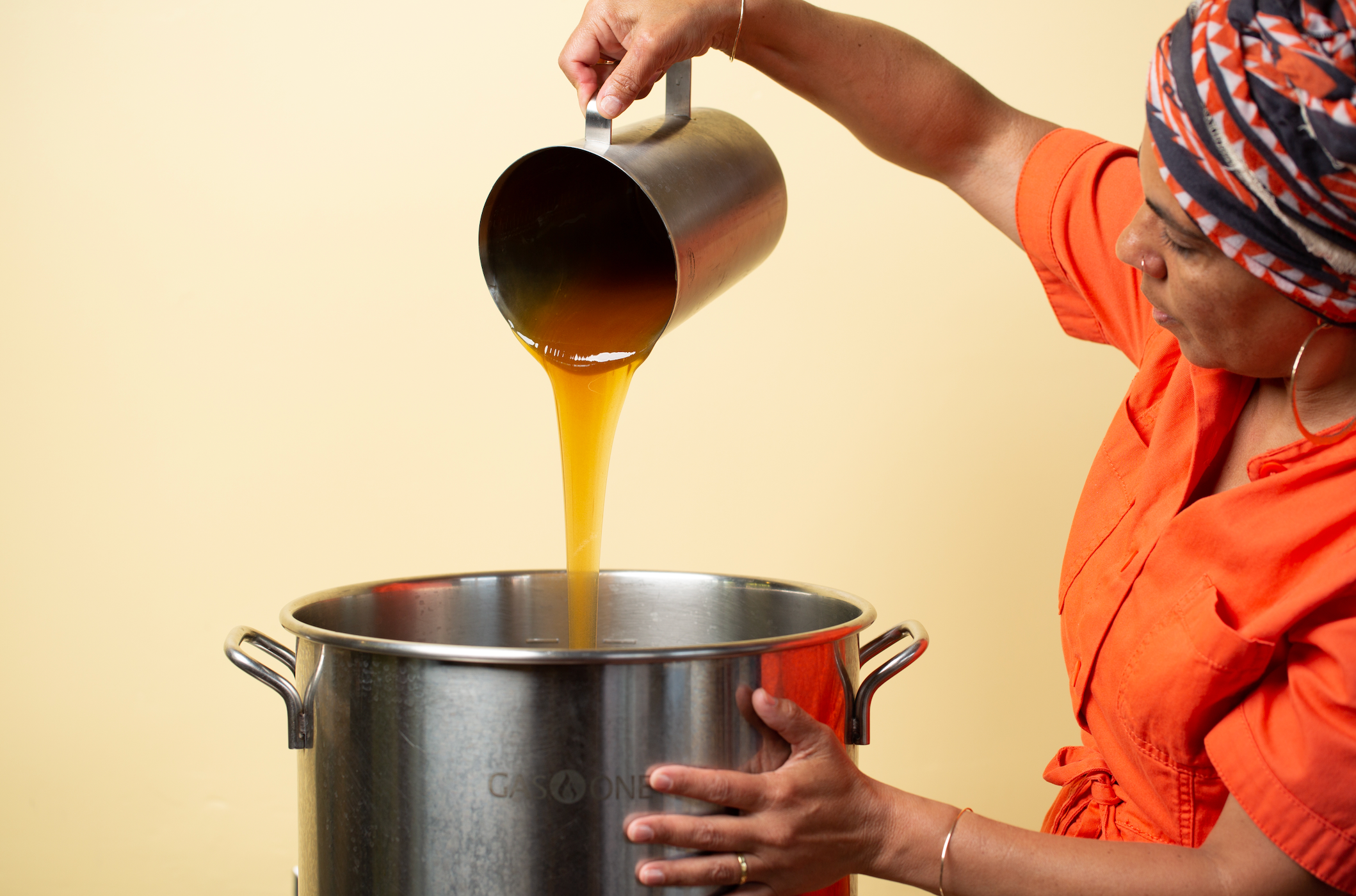 What is an herbal syrup?
A simple herbal syrup is a preparation of herbs decocted in water, with a sweetener added.  Most commercial syrups out there tend towards using refined sugars for this process, so always look on the label and check out what's in there. 
We use local honey, molasses (thank you for that iron) and spirulina (thank you ocean). Because we aren't making a simple syrup here (which has a shelf life of 1-2 years), its best to keep Taproot syrups refrigerated after opening.
Frequently Asked Questions
A tincture is an herbal extraction in 80 proof alcohol (we use organic grape alcohol from Oregon) and the bitters refers to the bitter quality of the herbs that are extracted.
Bitter herbs stimulate the production of digestive enzymes, helping your body to digest food (especially sugars and fats).  Our formula is also sour and smooth, supporting really any manner of digestive unease.  Don't forget to spray it directly onto your tongue for best results!
The syrups are shelf stable until opened, and then, yes we recommend refrigerating.  Honey can ferment if it heats up.  If you don't have a fridge, keep it somewhere consistently cool.  If it ferments, it changes the medicine, but it's still 'safe' to drink, if you are interested in experimenting.
To extract constituents from plants, herbalists traditionally either use alcohol, vinegar, honey, or water.  This medicine is as sweet as it is to both extract and preserve without additives or chemicals, using honey and water extraction.
The result is a traditional herbal syrup.  If you are finding them too sweet to take a spoonful (or swig) of, try diluting them in bubbly water with a squeeze of lemon for a yummy beverage.
We are trusting you to be tuned into your body enough to know if this is the right medicine for you.  We are also trusting that if you have specific conditions, you will be educated, or speak to your health care provider about what's okay for you to have and what's not. 
Essentially, this medicine is made with many people in mind.  It is effective, yet gentle.  It is formulated to bring more harmony and balance to most bodies…but cannot be for every body.  We suggest you think of it as food, try it, and trust that you will know if it's not good for you. Kind of like onions. For most, it's a healthy and powerful food, but not all.
We like to use this question often: "would your mother's mother's mother take it?"  If most of us go 3 generations back, we find ancestors that embodied a more natural and holistic way of living.
Dosage:
Adults: 1-2 tablespoons daily or 1-2 tablespoons, 3x/day in acute situations
2-4 years: ½-1 teaspoons daily as needed
4-6 years: 1-2 teaspoons daily as needed
6-12 years: 1 tablespoon daily as needed
Yes! These formulas can be taken together as your body needs.
For example, we might take a dose of Well-Being Syrup every morning to keep our immune systems boosted, a glug of System Soother in bubbly water to de-stress in the afternoon and spray Trust Your Gut on our tongues after a heavy meal or sweet dessert.
Again, we are trusting you to know what your body needs at any given time.
Taproot Medicine is made with care and attention, in small batches, by the hands of mothers, herbalists, and artists.
Enter the kitchen. Put on your favorite apron. Wash your hands, slow and steady, preparing for alchemy. Pots, herbs, scales, shiny bowls, and filtered water all come out to play. Dancing with the grinder helps the seeds break down, spooning out the raspberry leaf leaves a sweet floral smell behind. Herbs go into bowls to be weighed, then into sturdy pots that leave the arms feeling strong. Water is filtered + ionized + restructured, then a stir with the "witches wand", and we're ready for a flame. Waiting.  Herbs releasing their essence takes time. Finally, press out the water—a deep deep chocolate color, smelling astringent and root-y.  Squeeze every last drop out, it all wants to be medicine. Add honey, gently, while thanking the bees for their miracle. Mix in the final touches that change the color from deep earthy red to dark green to brown, and bottle with gratitude. Gratitude for the willingness of water, the wisdom of the plants, the opportunity to make something beautiful. Bottle in dark glass, label every one.
That depends. Please read the ingredients, and figure out what's right for you.
It is gluten free, dairy-free, vegetarian, and organic (whenever possible).  If you are still unsure, please contact us.  It is full of goodness, plants, bee nectar, and love.
This can happen with the Strong Woman and Well-Being Syrups, as they're made with spirulina (which doesn't always dissolve in water).  If you shake your bottle before you use it each time, there won't be any sludge left at the end. 
If you forget, add water and pour the sludge into your tea or something.  Don't let that goodness go to waste!
The Well-Being Syrup is formulated with families in mind.  Mighty Lungs Syrup is also  supportive for children. Strong Woman Syrup is formulated for menstruating women, but if you have a child with iron-deficiency, you can offer them this medicine at a child dose.
Many children have had positive results. We also often give our kids System Soother to take the edge off at the end of a long day and a spray of bitters on the tongue after too many sweets (squishy, bitter expressions to follow) ;)
We use electrolyzed reduced water to make all of our medicines. Kangen water is filtered + ionized + restructured. This allows the water molecules to penetrate and extract the deepest quality and flavor profile from each plant.