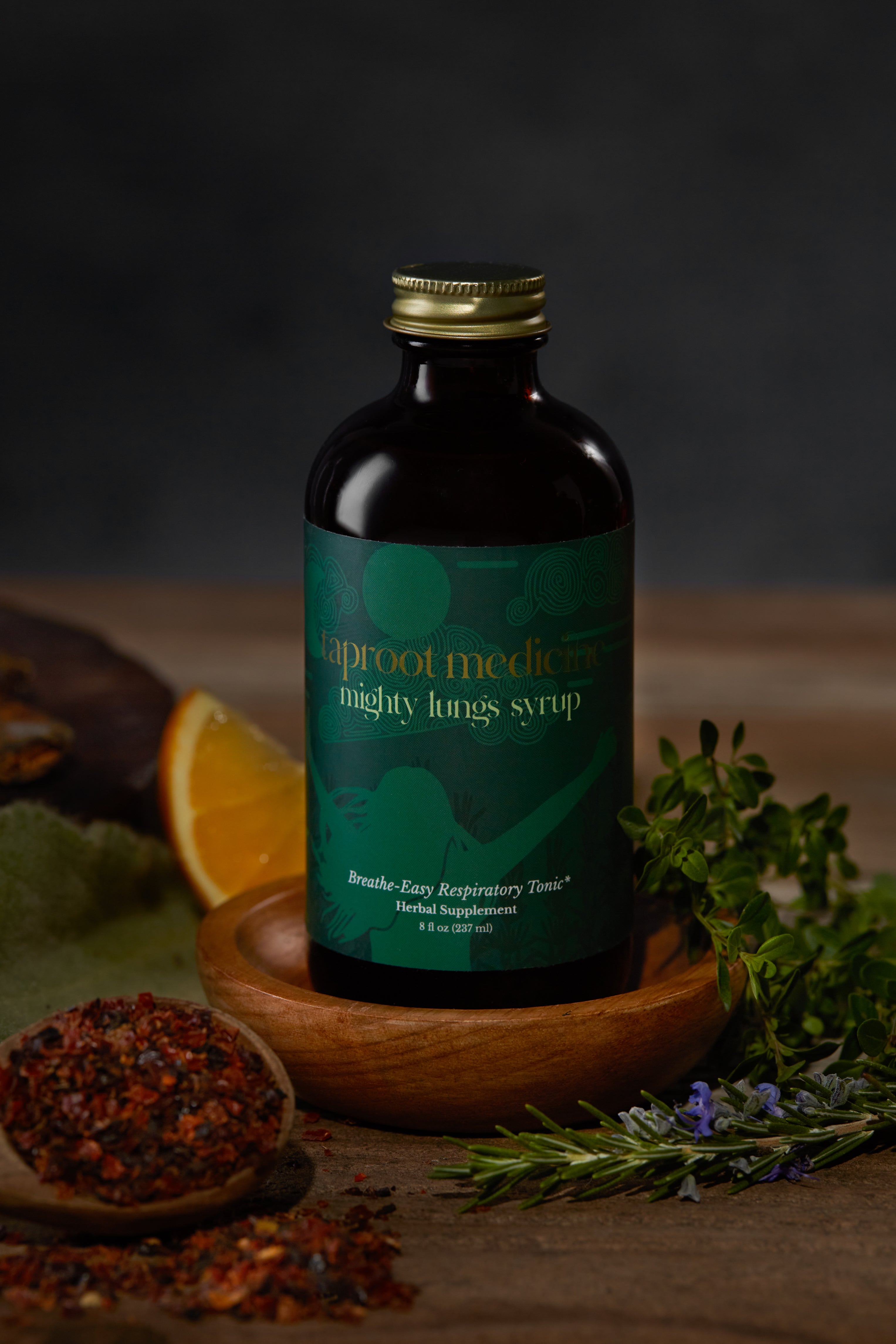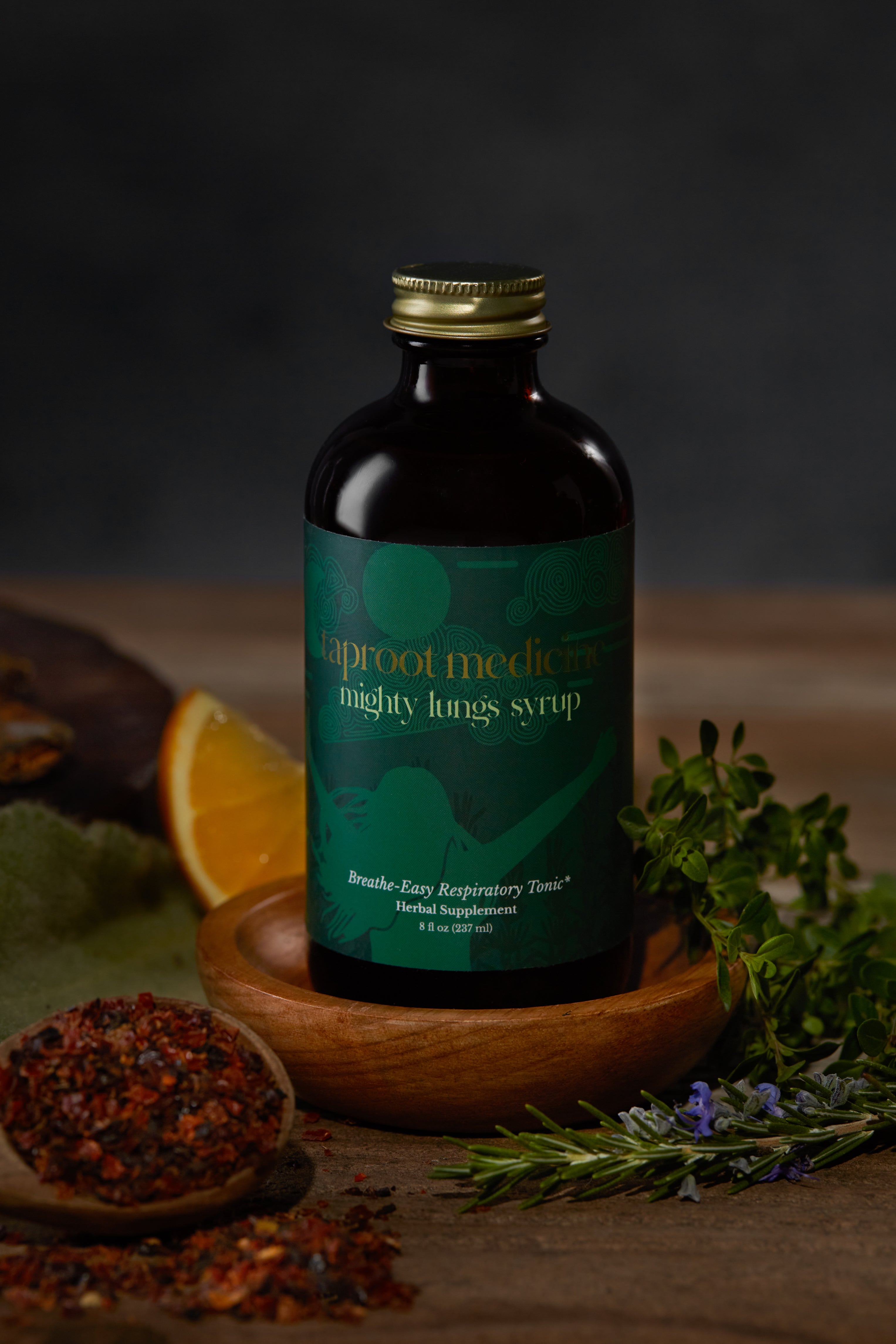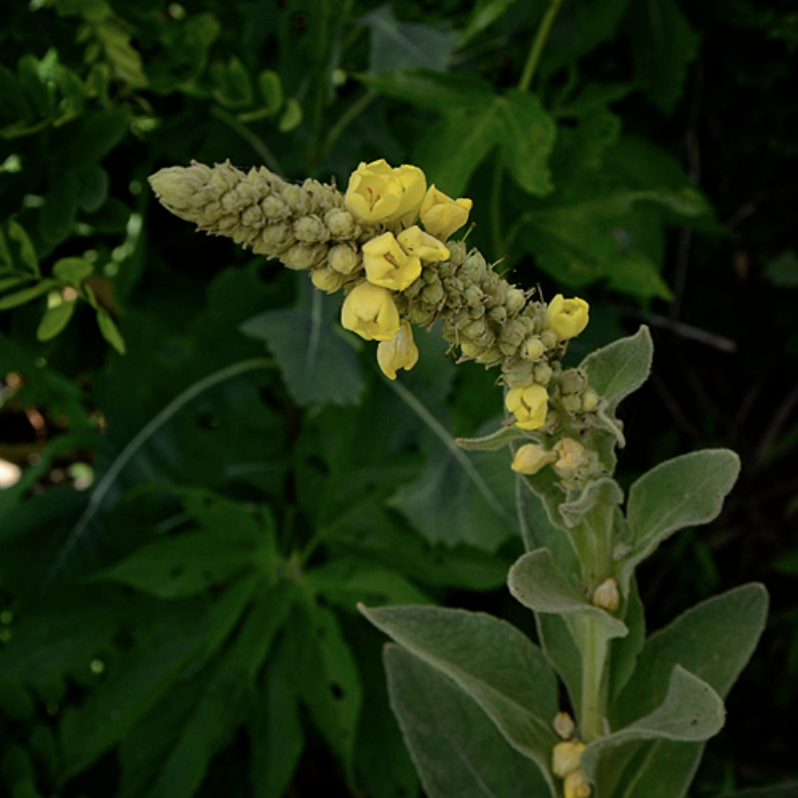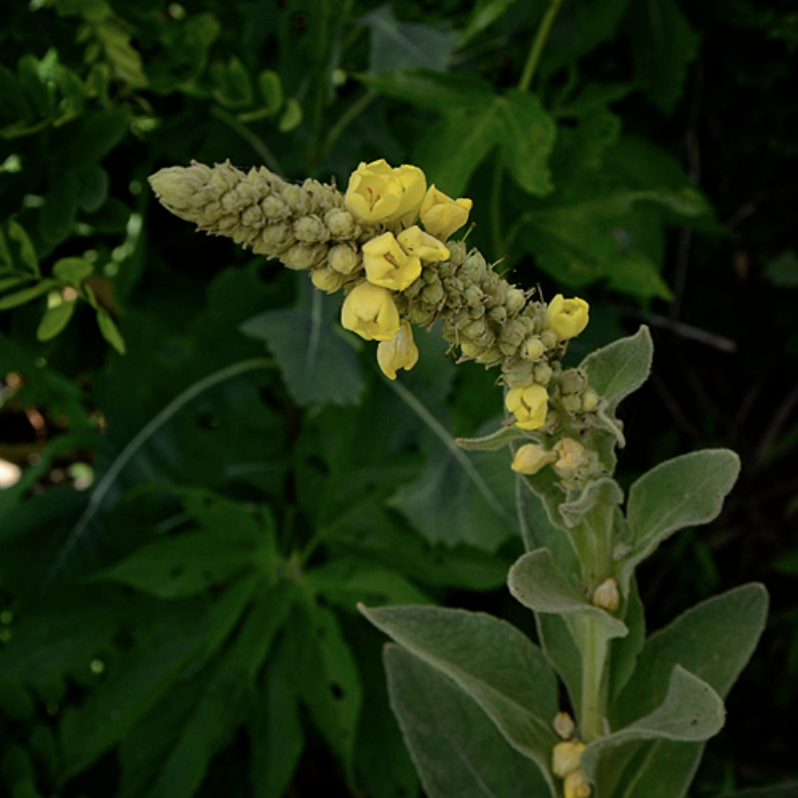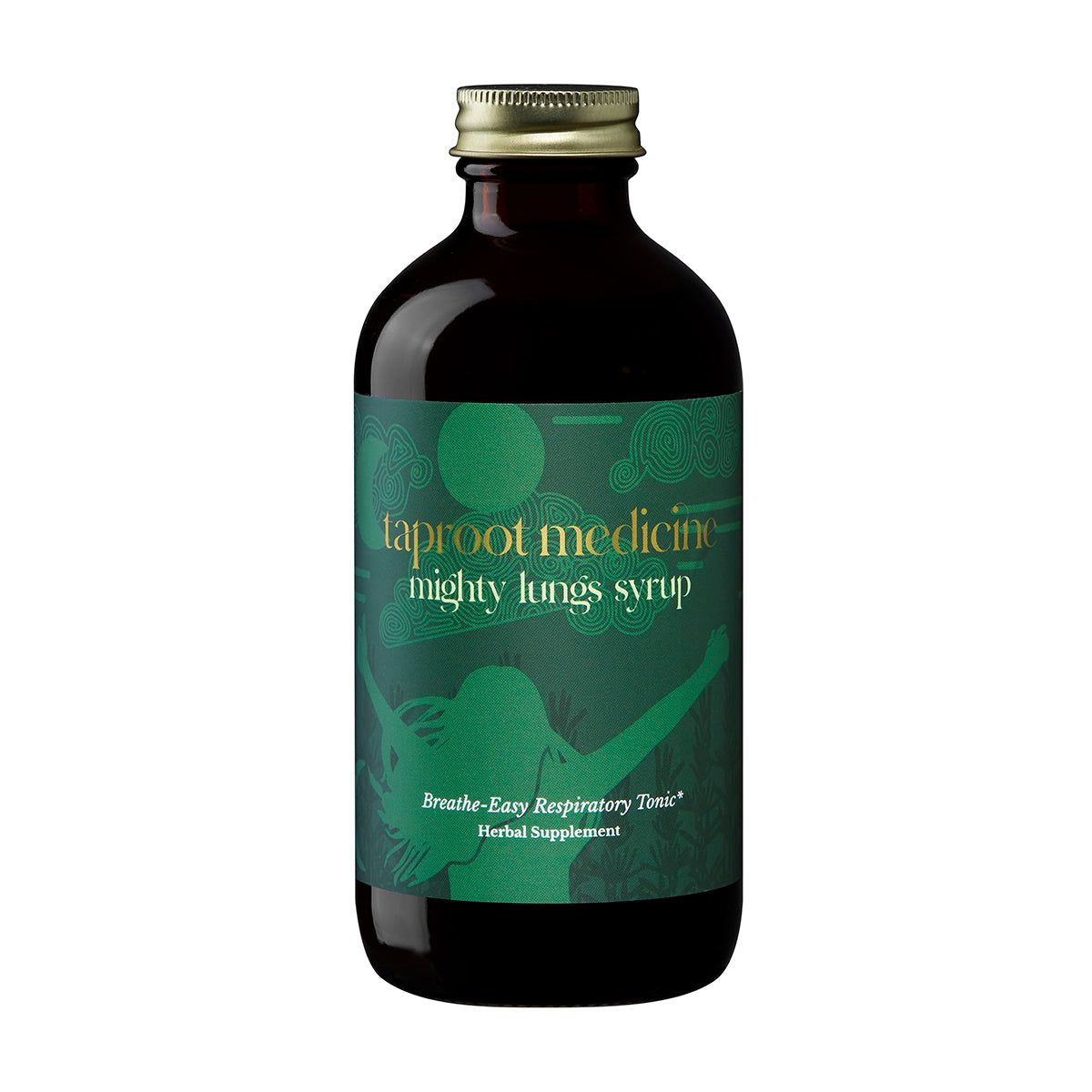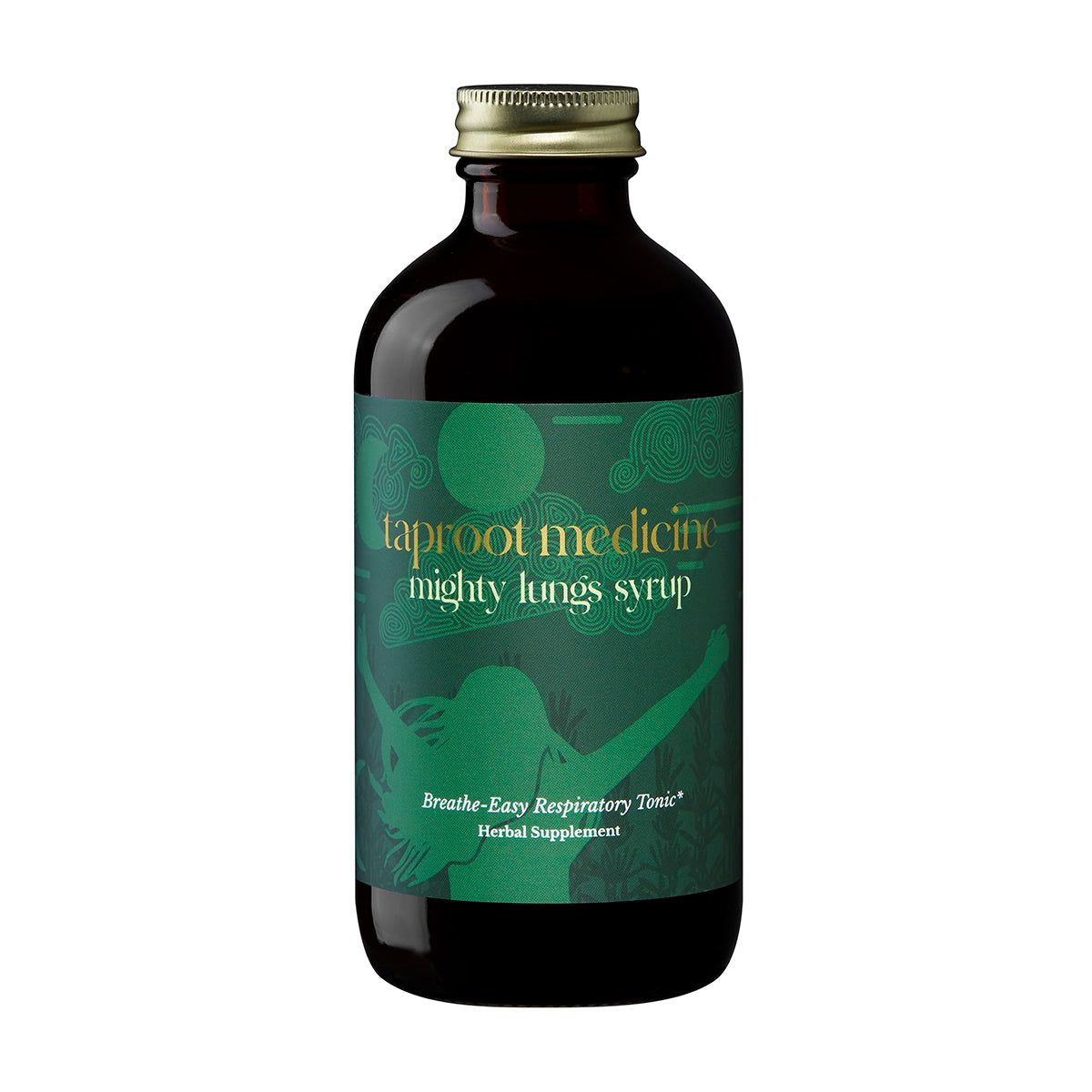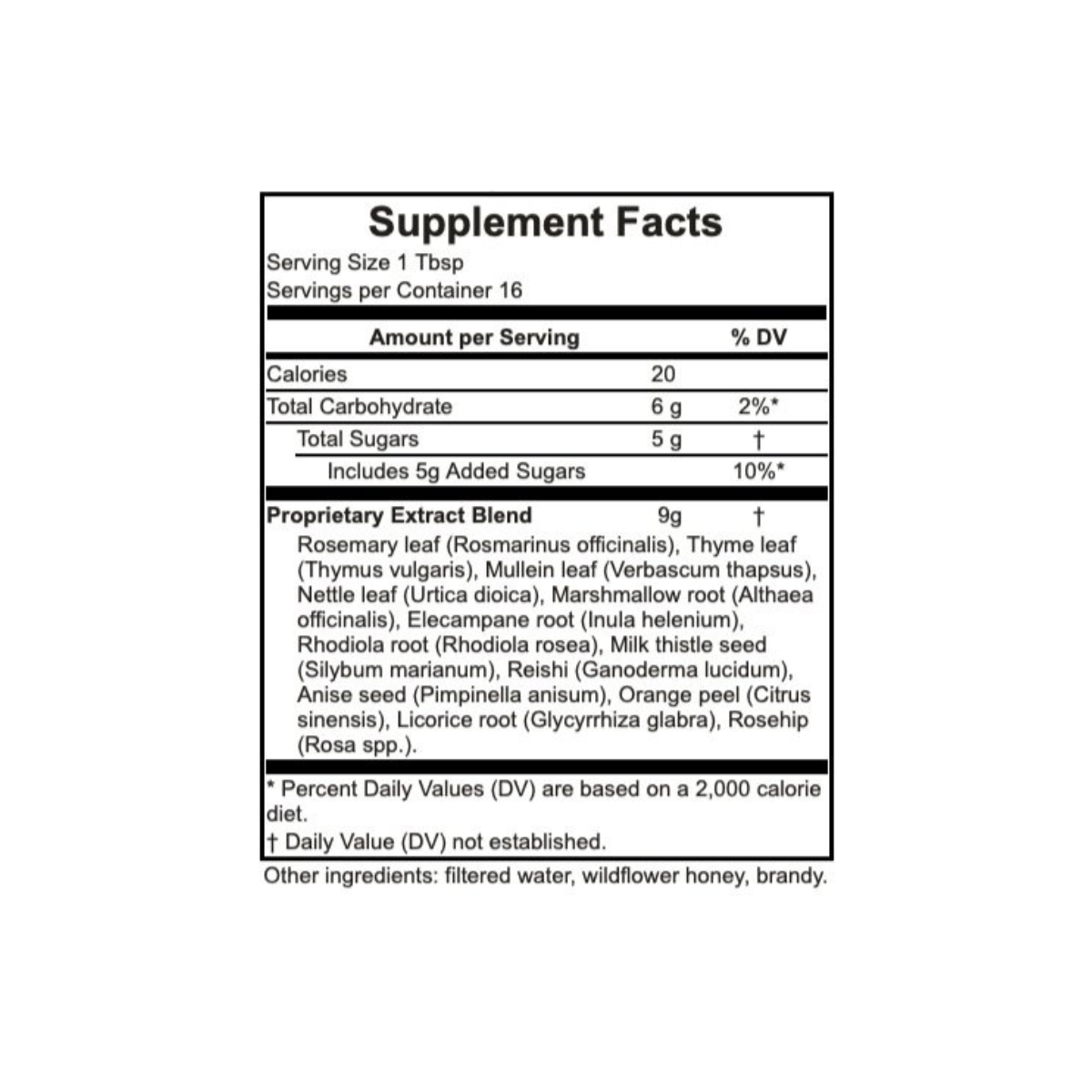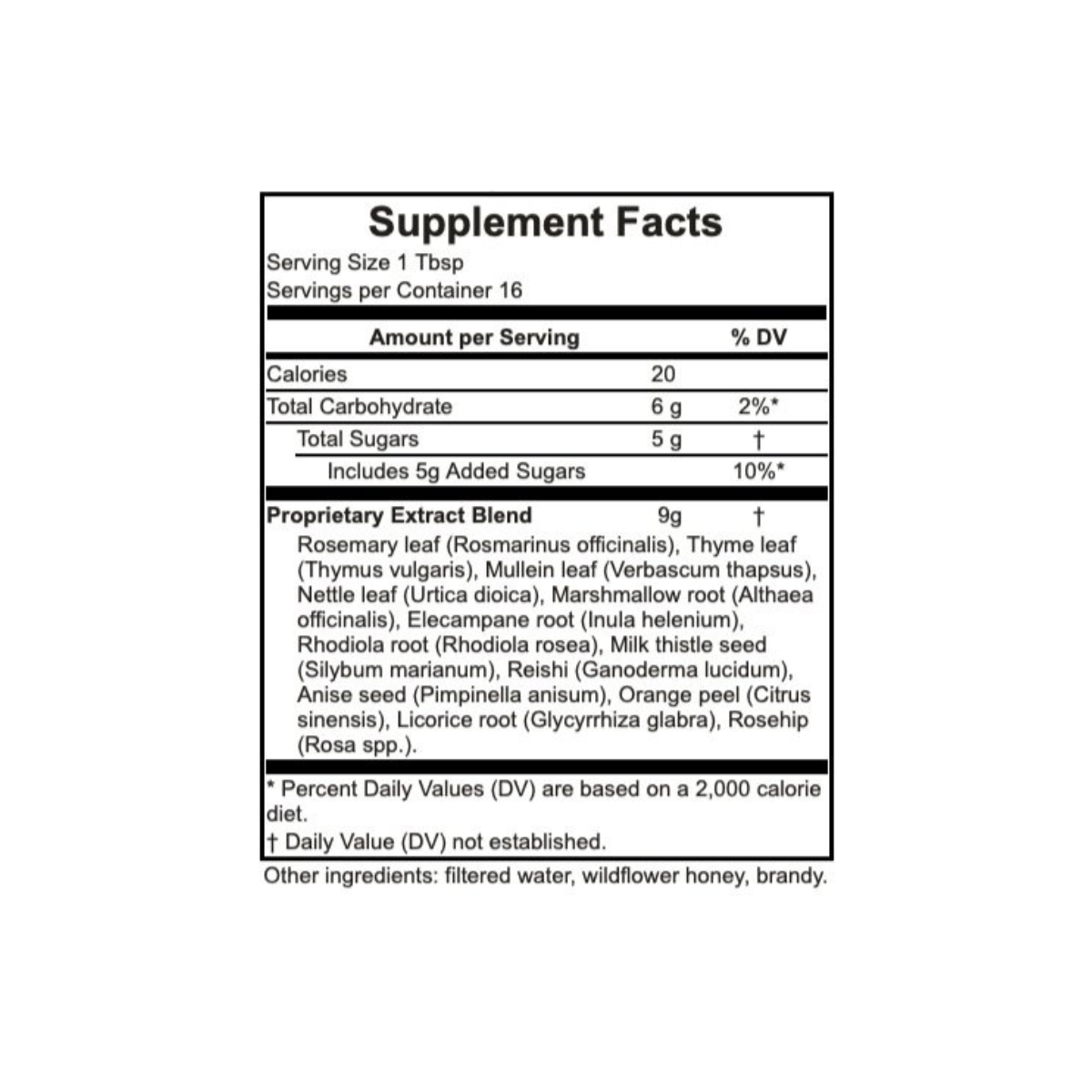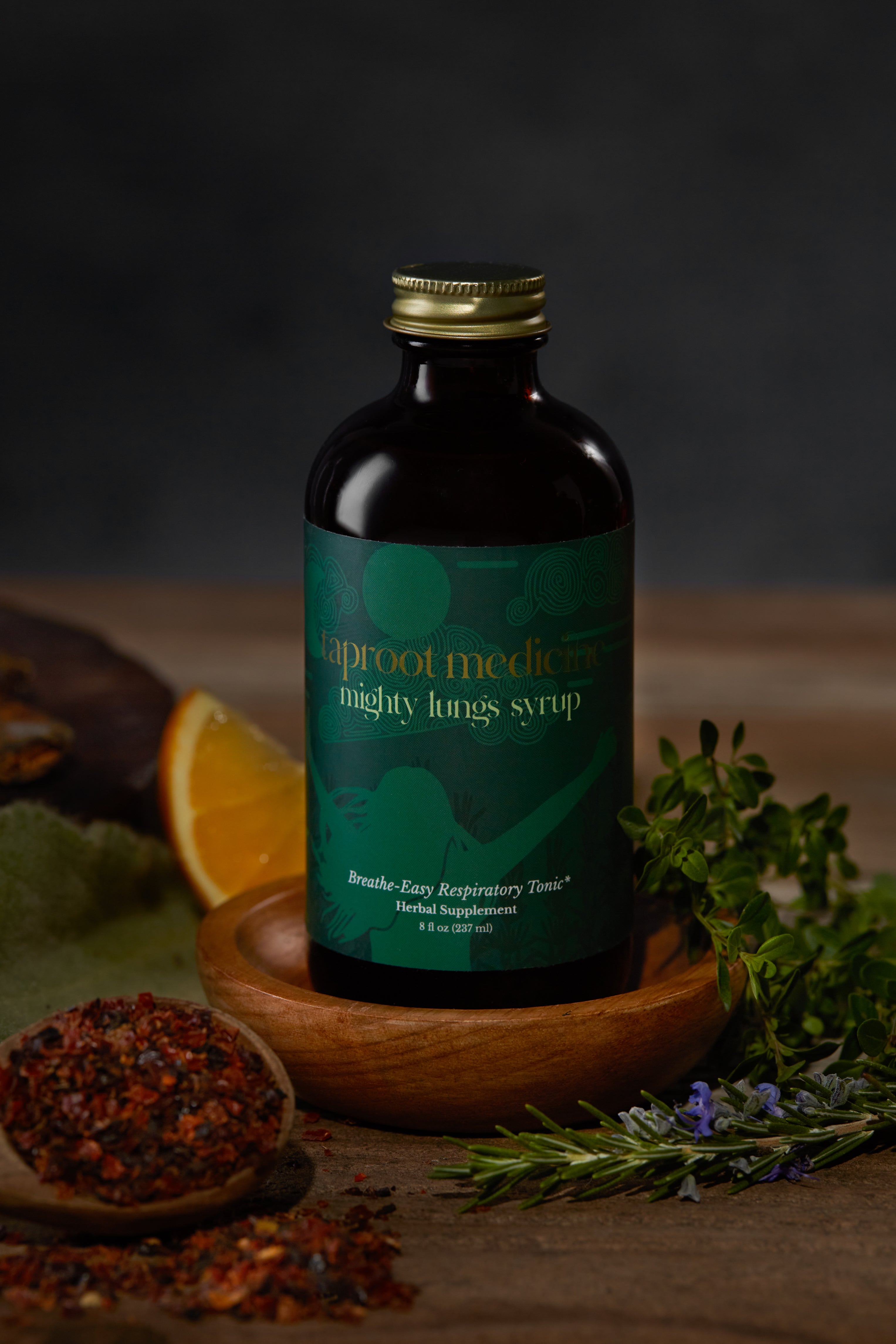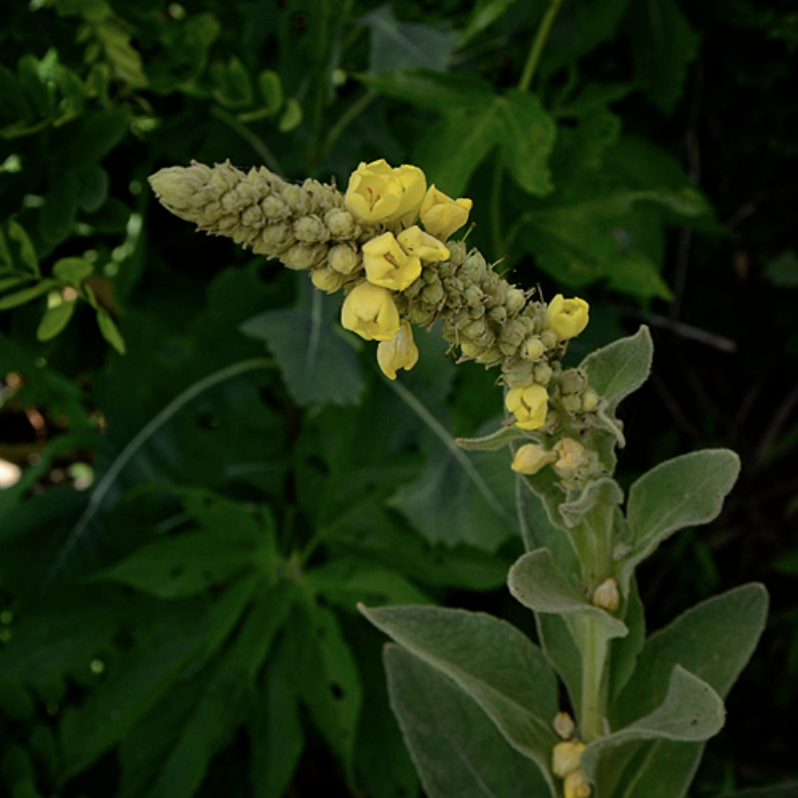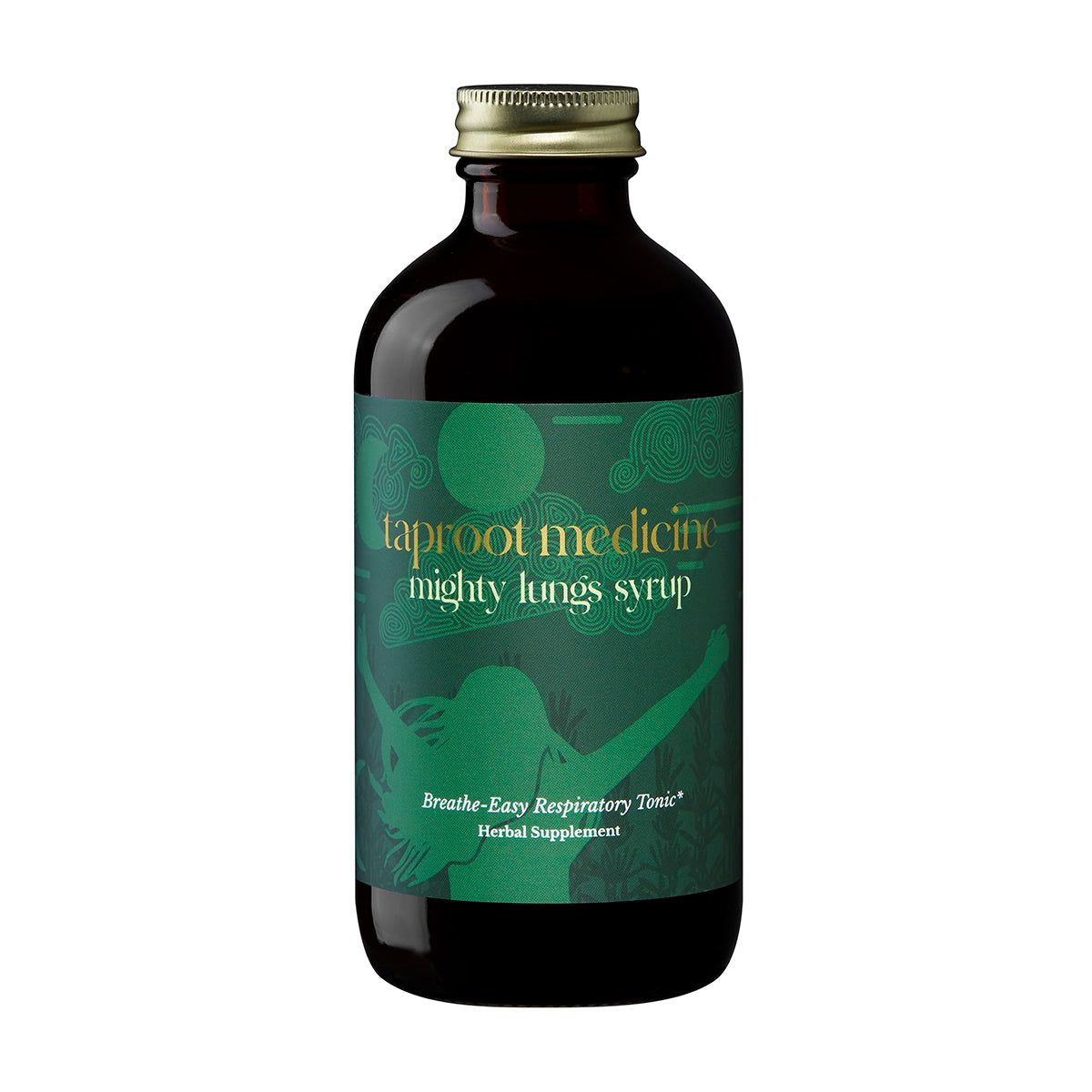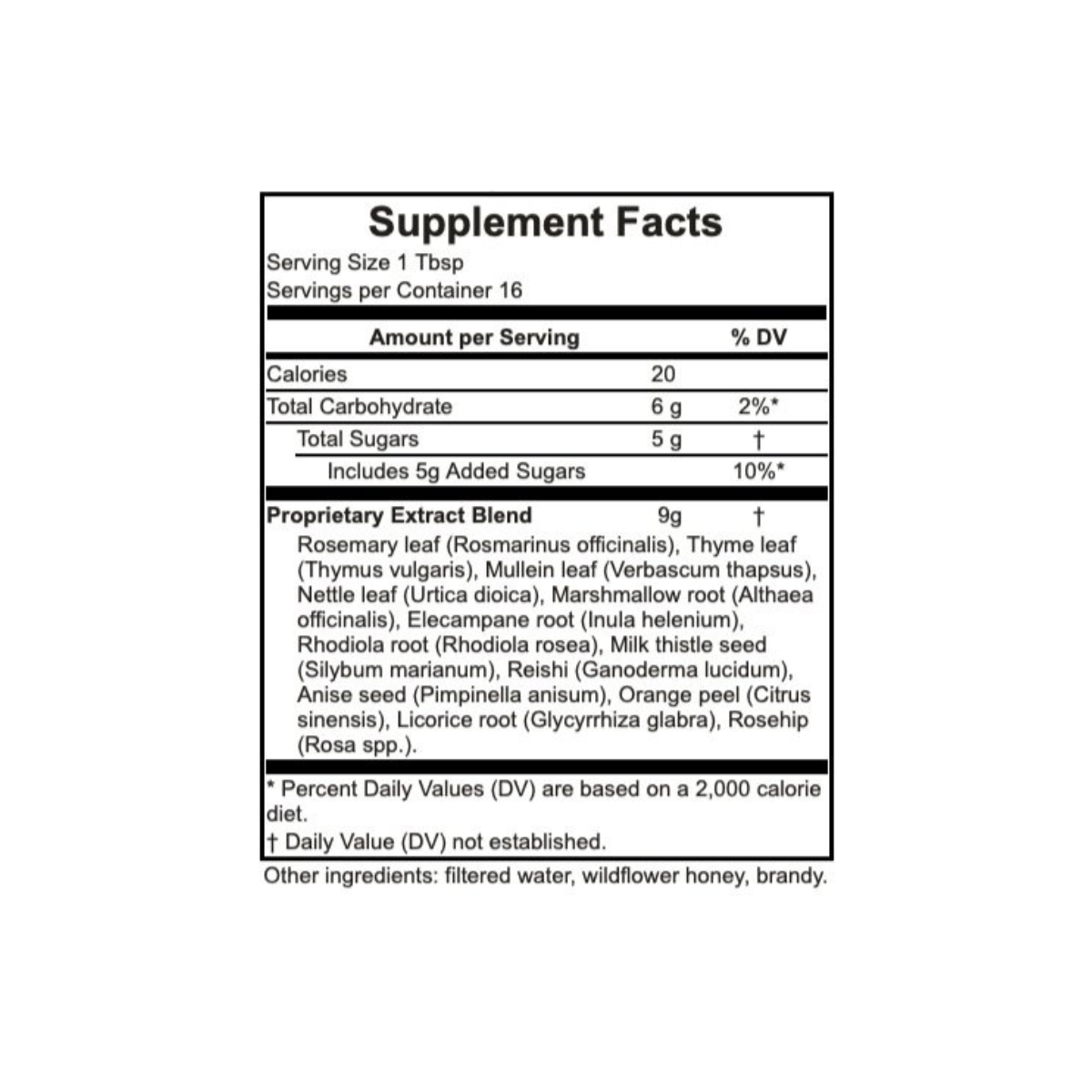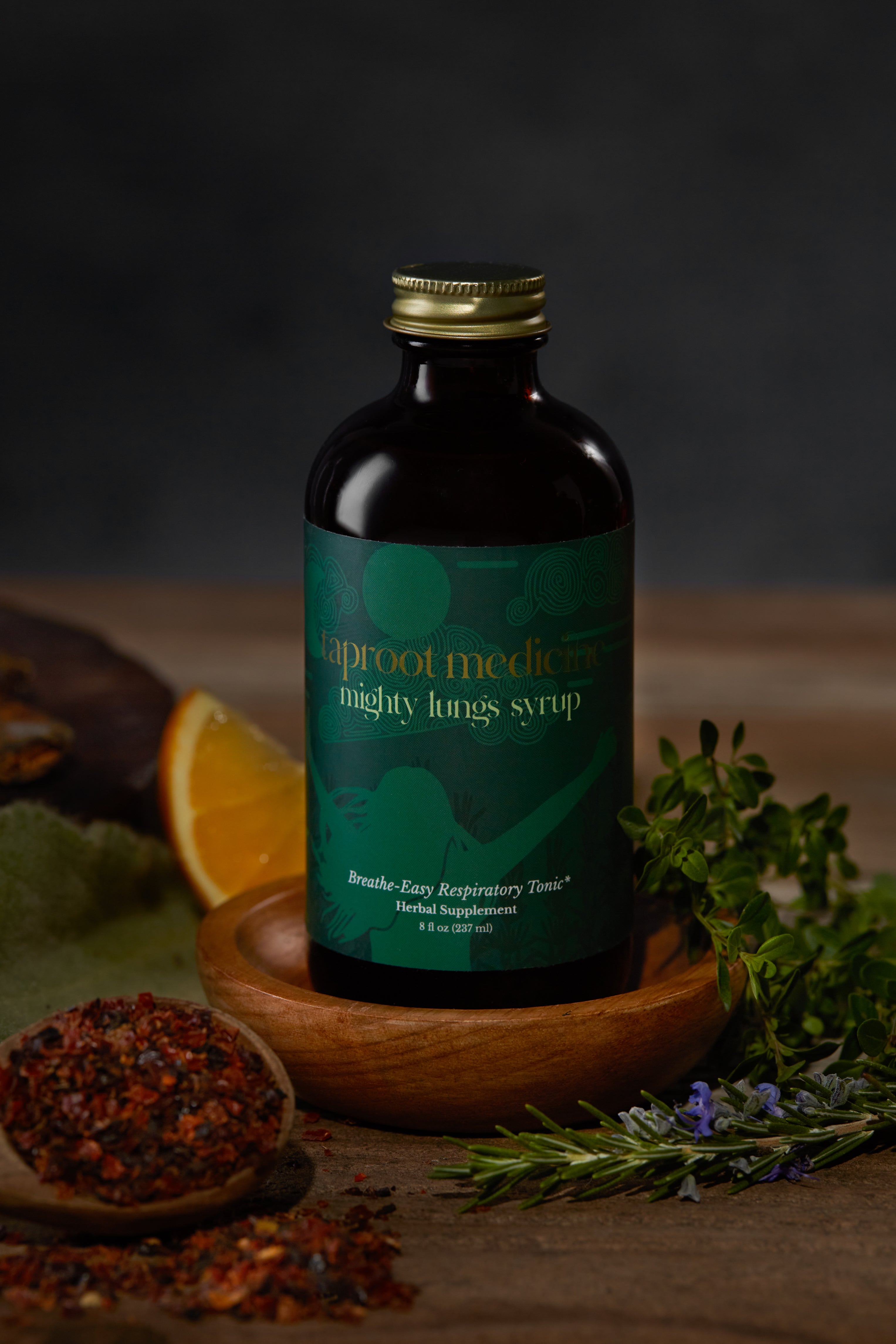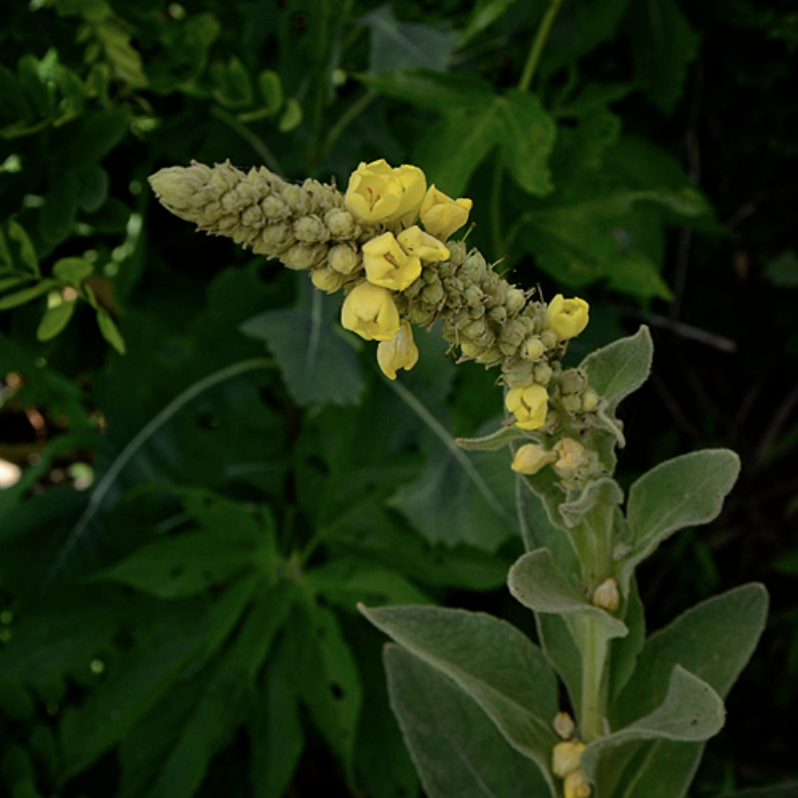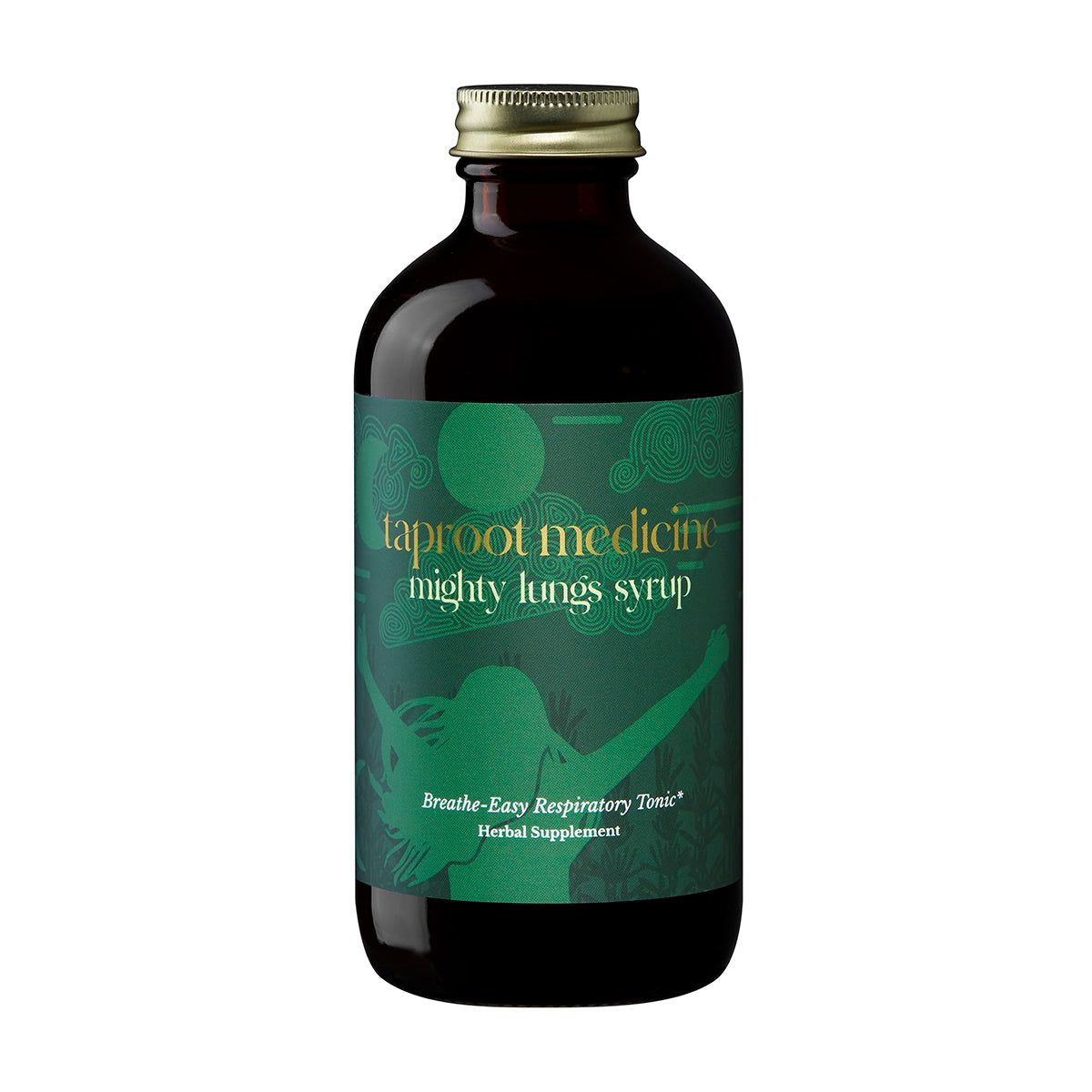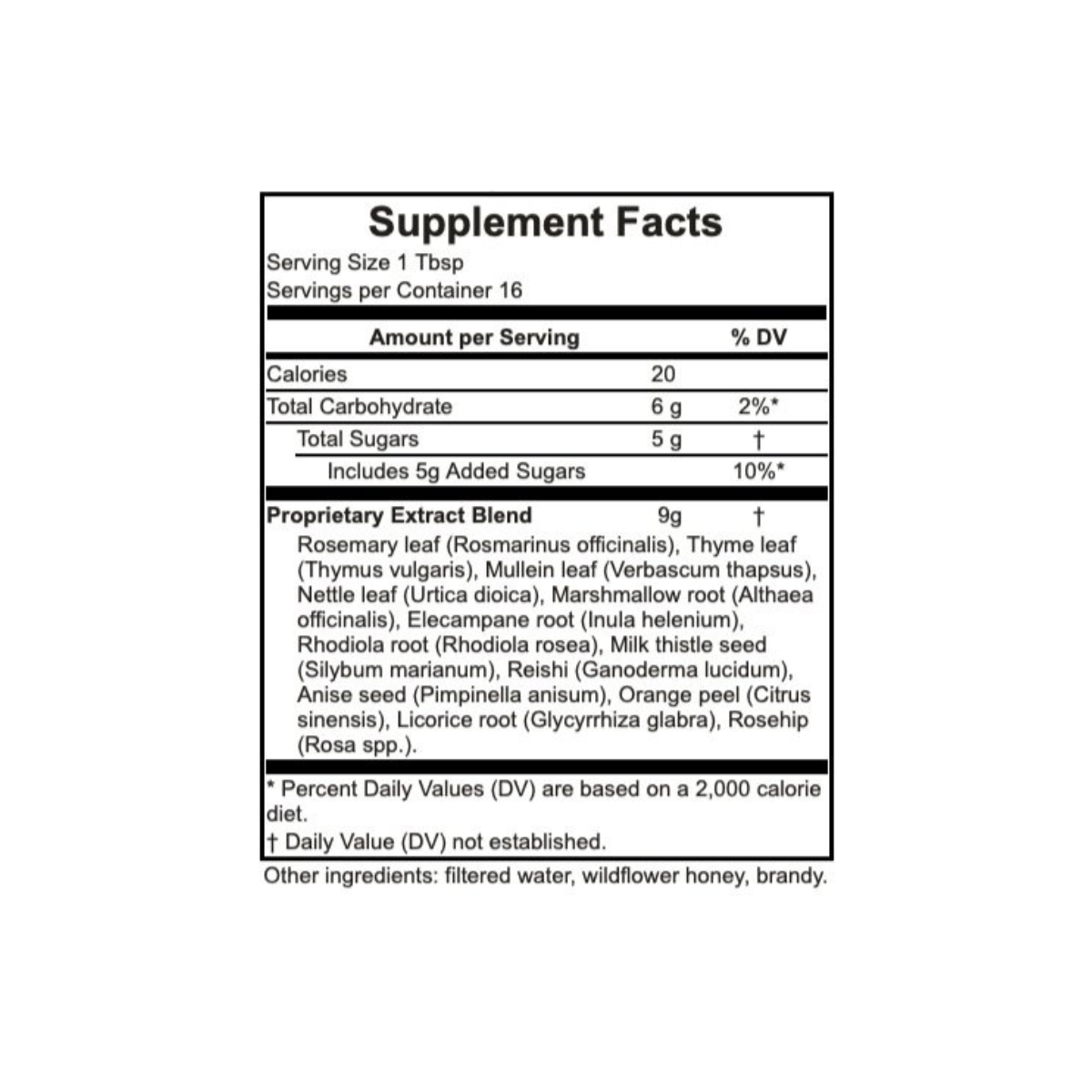 Mighty Lungs Syrup, 8 & 16 oz
A Breathe-Easy Respiratory Tonic
We first brewed this powerful formula in 2017, during Northern California's devastating wildfire season. This compound formula is a nourishing tonic to support easeful breathing, promote healthy nervous system function, and aid in liver detoxification.* Let the intelligence of these plants meet the wisdom of your body so you can breathe easy, whether it's from smoky skies, allergies, asthma, or other respiratory distress.*  
Tastes Like: complex, fresh, smooth, herbaceous, enlivening, a warm summer afternoon, minerally, aromatic, balancing, rich, warming
13 plants to honor: rosemary (Rosmarinus officinalis), thyme (Thymus vulgaris), mullein (Verbascum thapsus), nettle (Urtica dioica), marshmallow root (Althaea officinalis), elecampane (Inula helenium), reishi (Ganoderma lucidum), rhodiola (Rhodiola rosea), milk thistle seed (Silybum marianum), anise seed (Pimpinella anisum), sweet orange peel (Citrus sinensis), licorice root (Glycyrrhiza glabra), rosehips (Rosa canina and Rosa rubiginosa)
Available in 16oz and 8oz glass bottles
True Medicine
I've bought this herbal medicine for all my family. My adult kids, back in Jan and Feb got pretty sick with some bad coughs. It wasn't Covid because they tested negative. They started taking the Mighty Lung Syrup and the cough went away after about 3-4 days and did not linger like it usually does.
Can't go a day without it
This tonic has been a game changer for my family and I. After having so much stress on our airways over the last year or so this gives us peace of mind that we're taking care of our repair system. It's soothing and feels amazing and tastes even better. Thank you Taproot for blessings us with this herbal syrup!
Good medicine for chronic obstructive pulmonary disease
I am a physician with chronic obstructive pulmonary disease (COPD). I used Mighty Lung Syrup. After a period of time I noticed a definite improvement in my breathing. After a while, I felt I no longer needed the syrup since my breathing was easier, particularly with activity. The benefit continues even after over 6 months since stopping use of the syrup on a daily basis. I recommend Mighty Lung Syrup to anyone with COPD.
Everyday
I love this syrup! I use it daily during cold/flu season and find it supportive during allergy season as well. It's an easy, delicious and nutritive.
A miracle for me!
I had a pulmonary embolism 3 years ago.
Last year I had Covid and my breathing got so bad I couldn't talk, the very symptoms I had with the PE. When I got better I still had lingering shortness of breath and found that I had "post infectious lung inflammation". The dr. wanted to put me on 3 very heavy duty drugs with scary side effects. I said no! My daughter sent me a bottle and within a week I felt soooo much better. By the 2nd week, I felt normal!!!
I have subscribed so take this monthly to keep my lungs clear.
Thank you SO much for this awesome natural medicine. It healed my inflammation and I am so very grateful!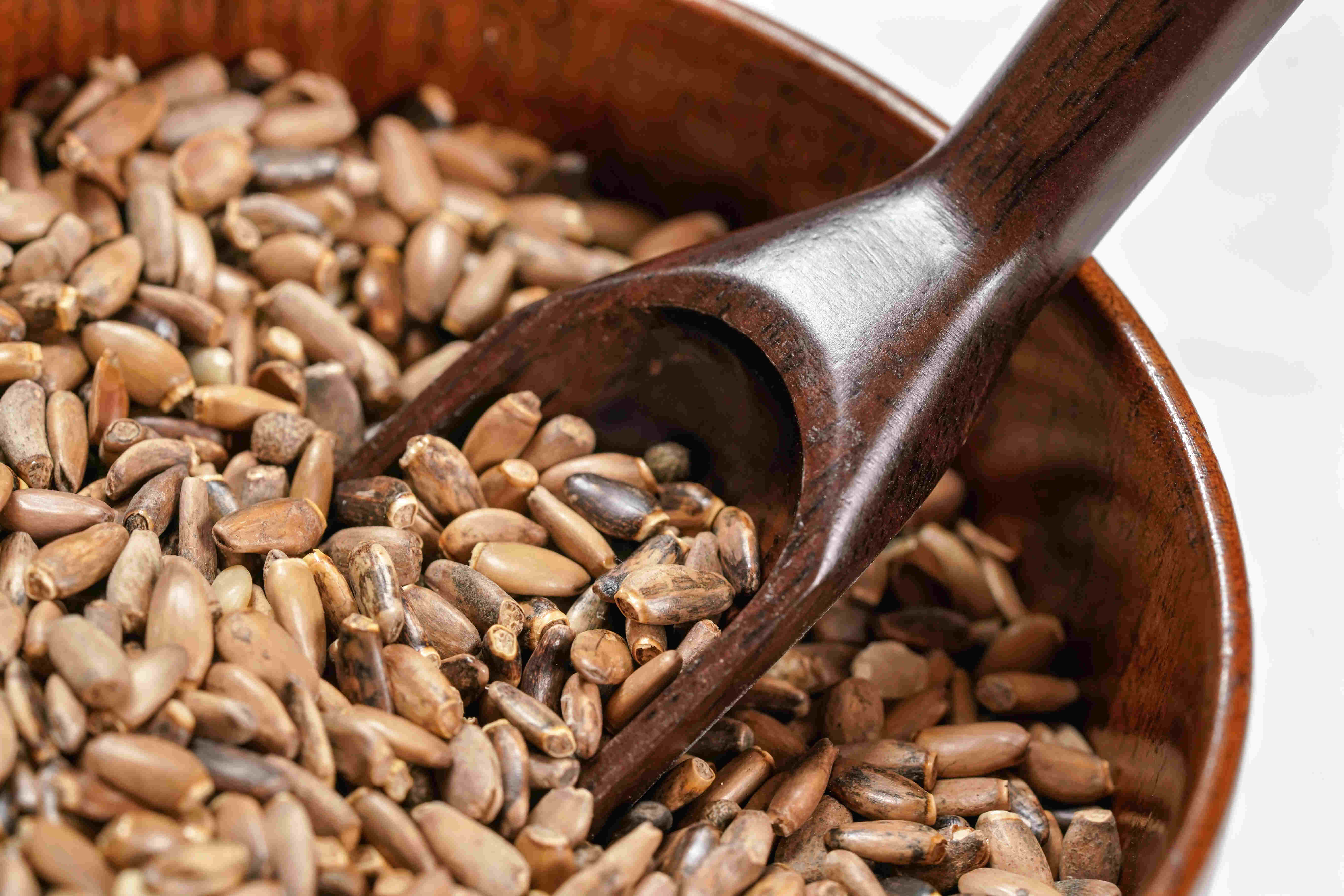 Silybum Marianus
Milk Thistle Seed
Milk thistle seed is a remedy of the liver and blood, regulating, detoxifying and renewing. Milk thistle seed is one of the main remedies used to restore the liver to a state of good health and protects it from damage and toxicity. It is considered the #1 herb that can restore the proper structure and function of a weakened or damaged liver. Milk thistle is also a gentle bitter tonic, supporting fat digestion and bile production.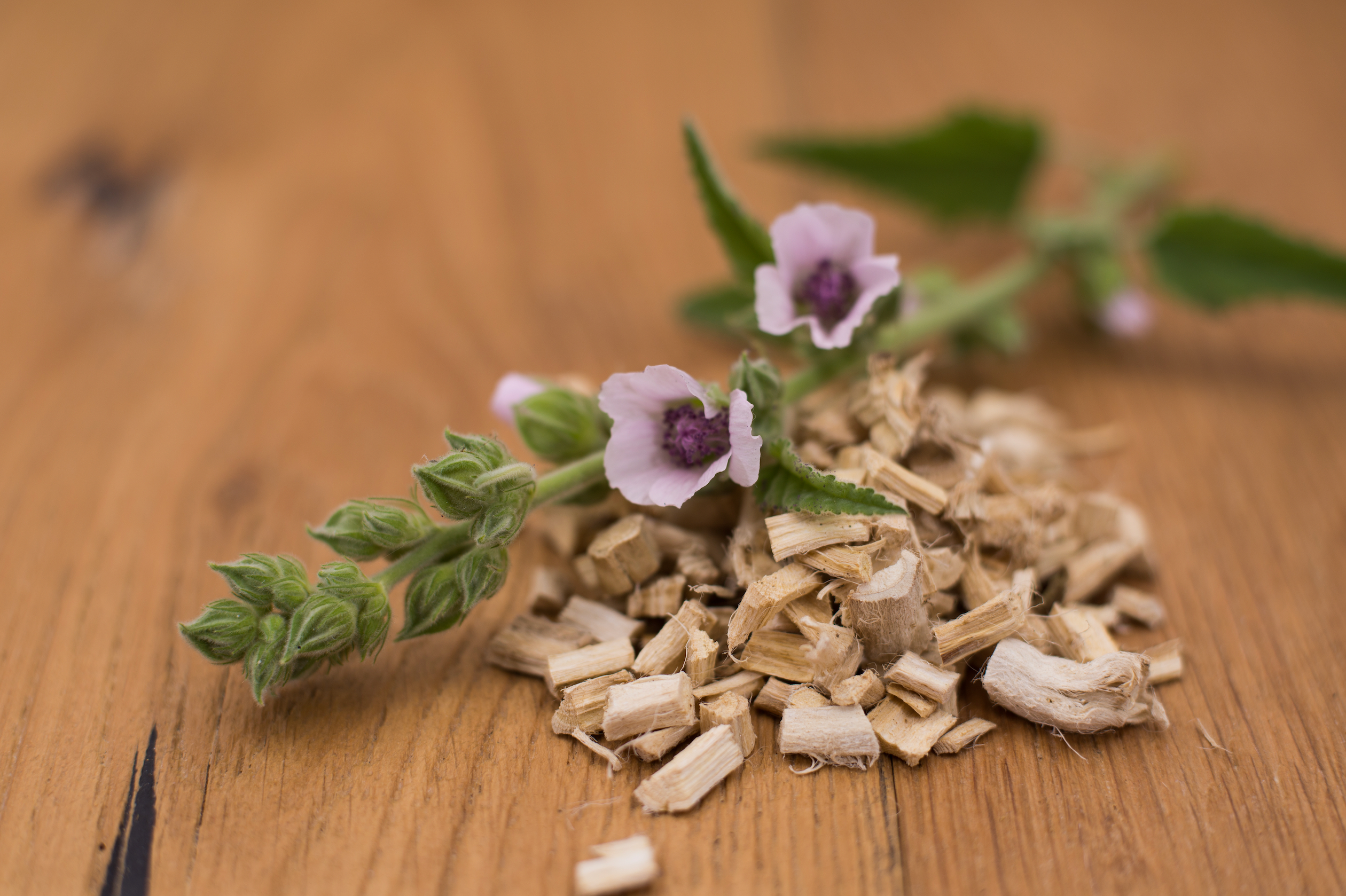 Althea Officinalis
Marshmallow Root
Marshmallow is one of our favorite demulcent herbs as it has a hydrating effect on dry tissues thanks to its constituents known as mucilaginous polysaccharides. These compounds are long-chain sugar molecules that bind with water to produce mucilage. Moistening and cooling, mucilage helps hydrate dry and irritated tissue lining aggravated by heat and inflammation.

You'll find marshmallow in our Mighty Lung Syrup as it lends a moistening quality to our formula- supporting an expectorant quality in the respiratory system and a dry cough state.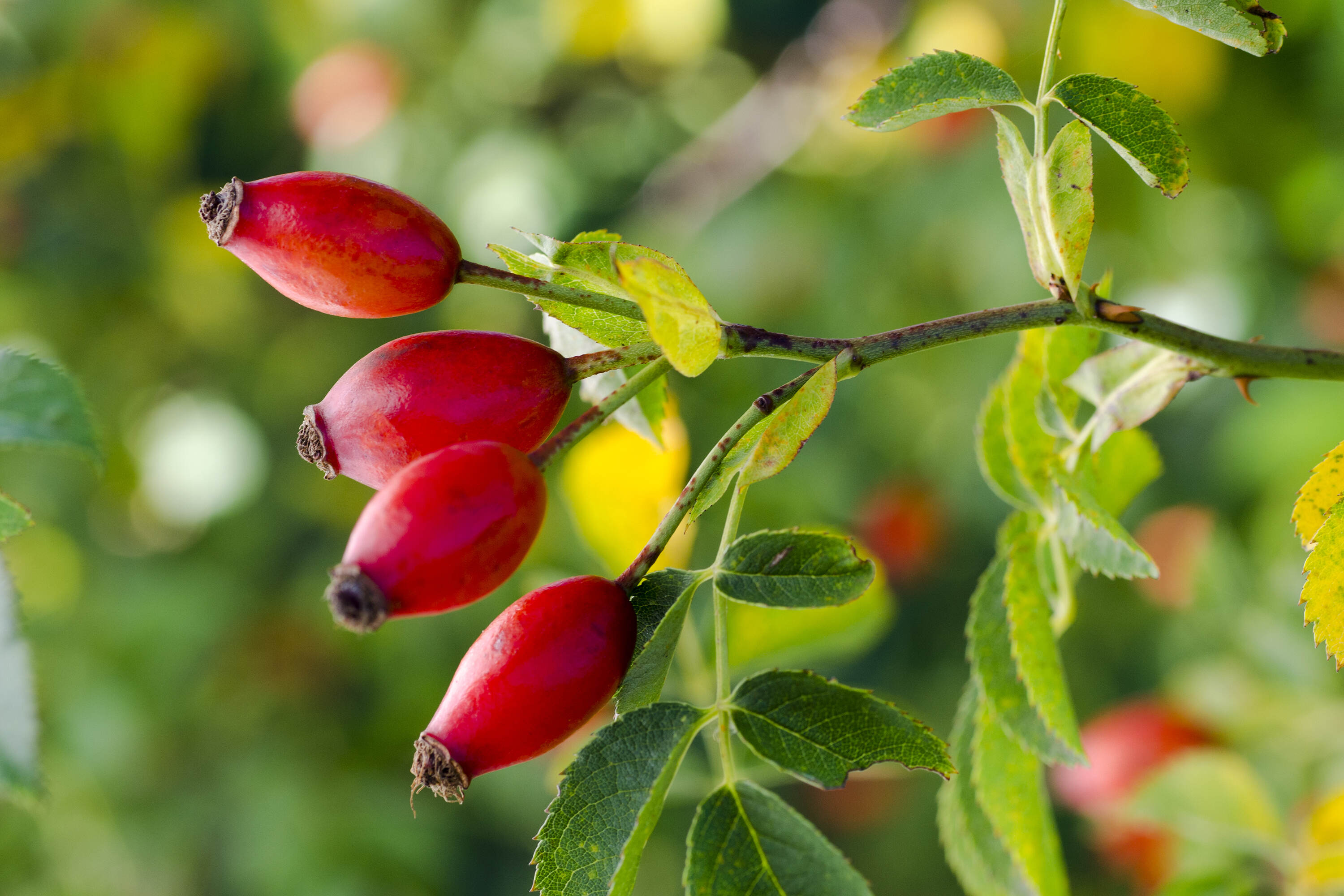 Rosa spp.
Rosehips
Rosehips provide a rich herbal source of vitamin C and flavonoids. They also have an affinity for supporting the heart and cardiovascular system. Their food-like nature makes them desirable and safe to use as a daily tonic for cardiovascular, skin and immune wellness.
Rosmarinus Officinalis
Rosemary
A beloved culinary herb that provides immense wisdom and medicine to our bodies. Rosemary's pungent and aromatic qualities are warming and stimulating, assisting in circulation and alleviating stagnation. Rosemary helps move energy upwards, helping to clear stagnation out of the body and mind. Turn to rosemary for clarity and uplift of the body, mind and heart.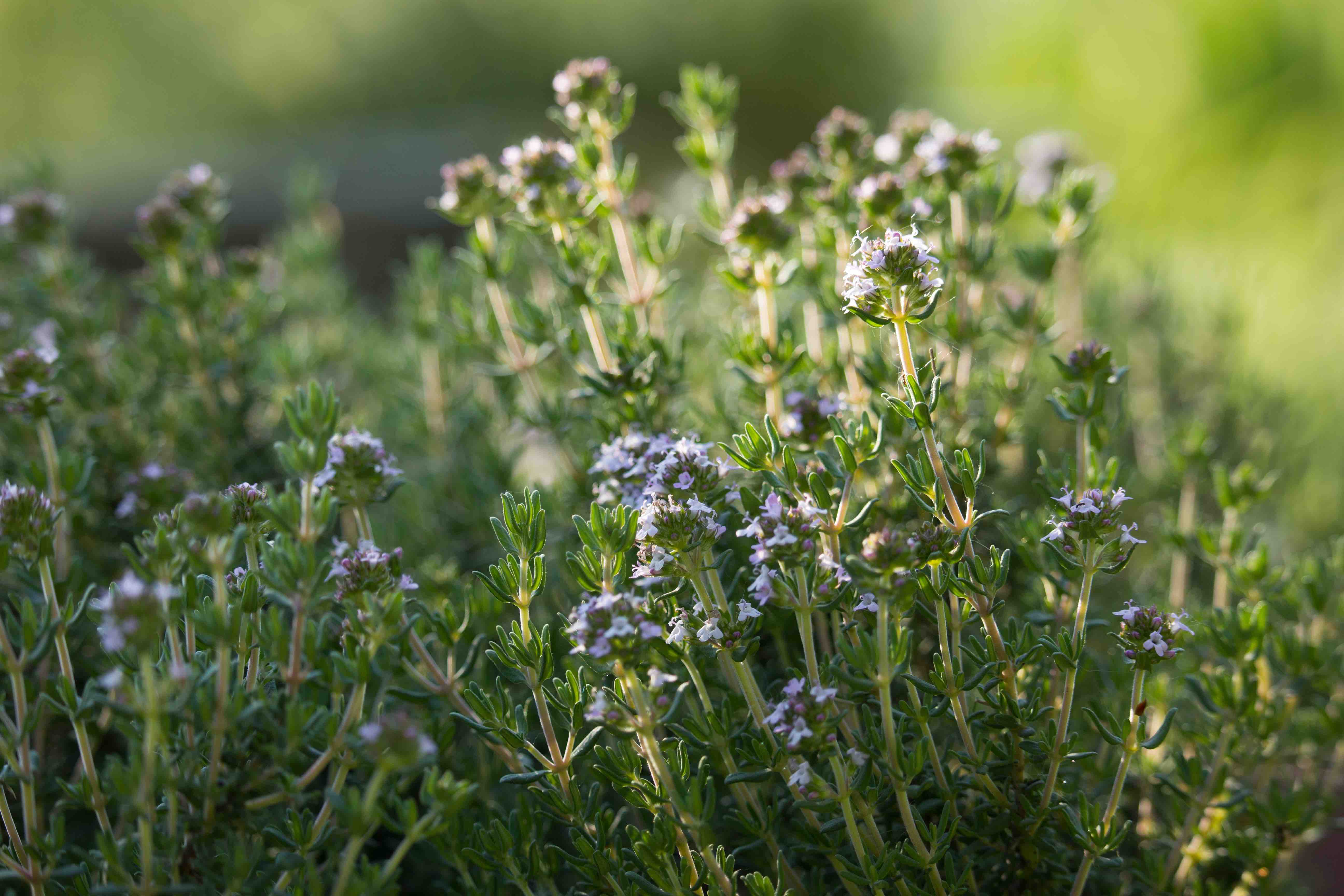 Thymus Vulgaris
Thyme
Thyme has a long history as a culinary herb and flavoring agent in liquors. We love it for its affinity for the respiratory system, in particular for productive coughs and tension or tightness in the lungs. Thyme's aromatic oils have a clearing and opening effect on the channels to the lungs, allowing us to breathe deeper and more easefully.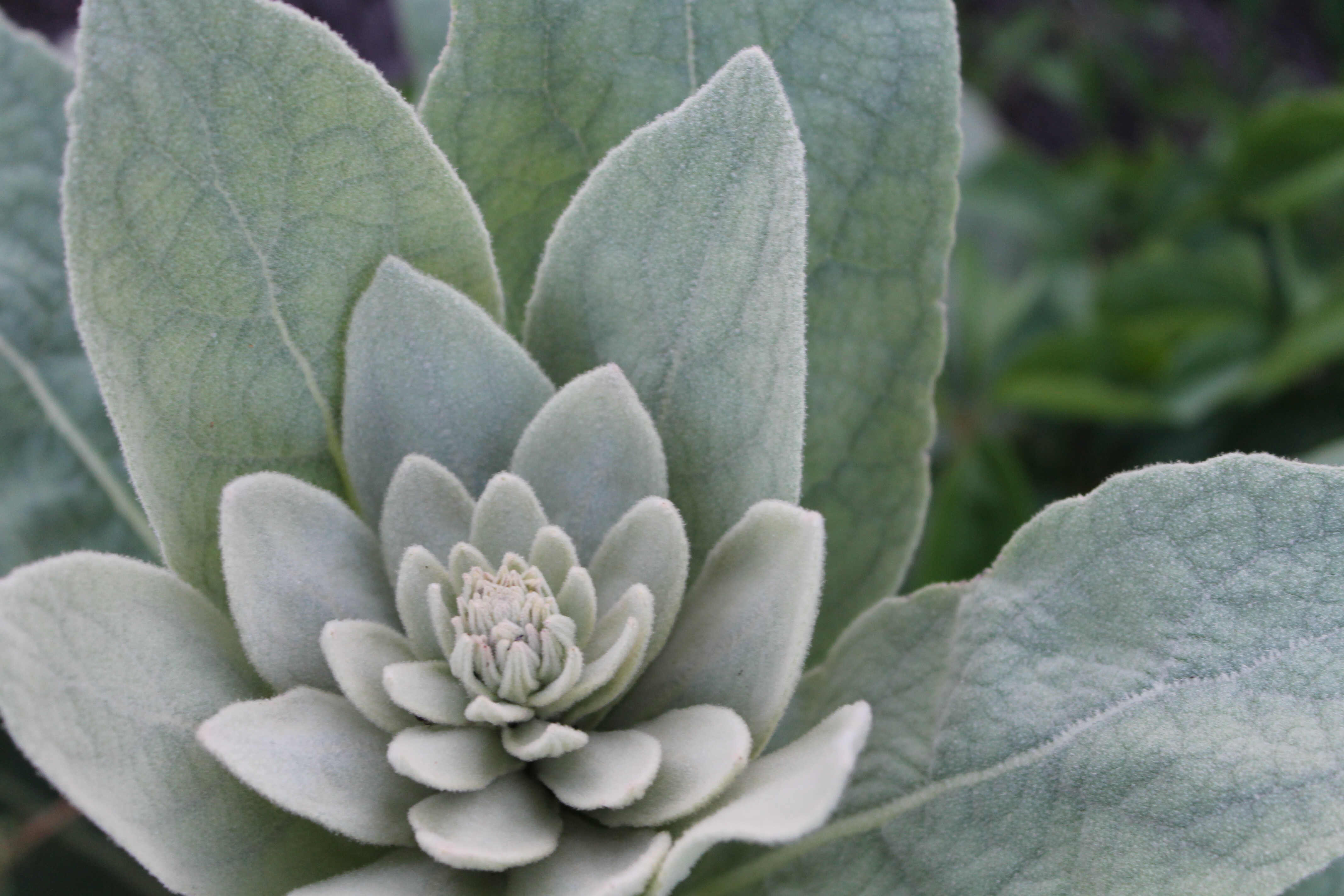 Verbascum thapsus
Mullein
Mullein is traditionally used for respiratory ailments such as a dry hacking cough or when one needs help expelling phlegm or particulates from their lungs.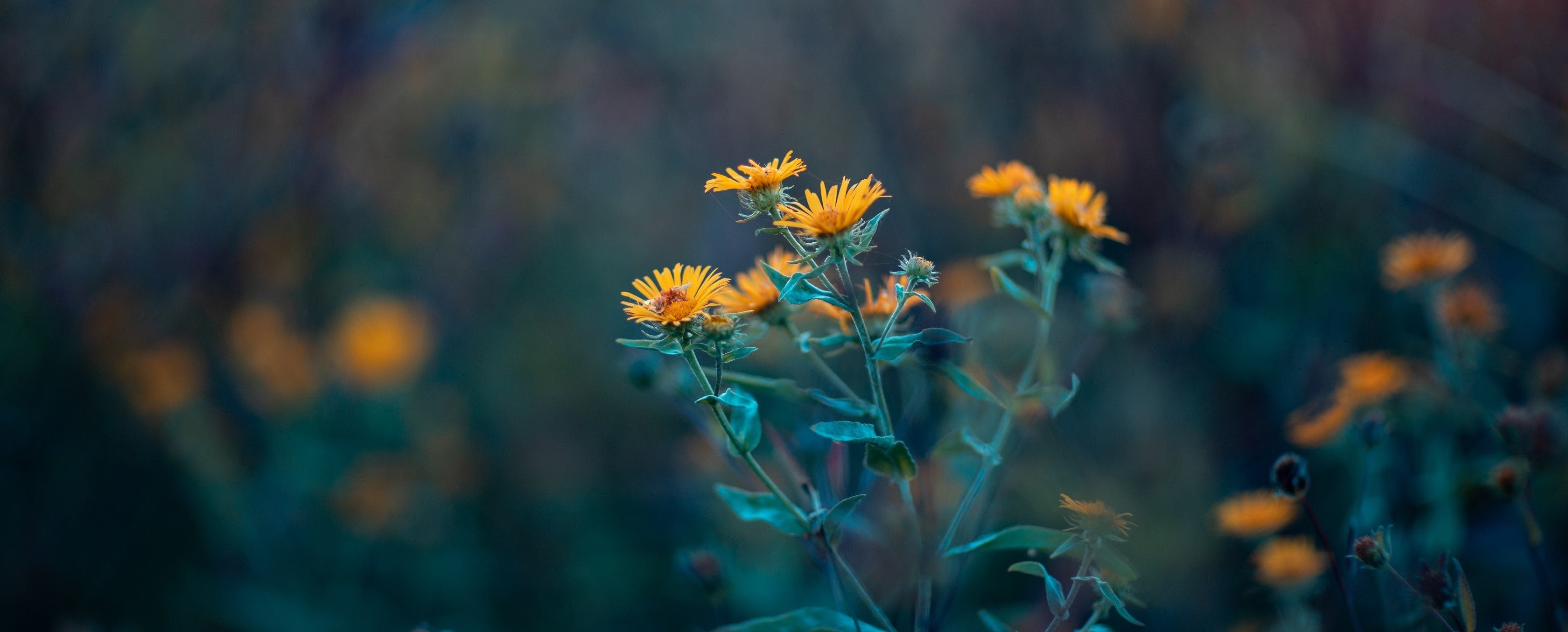 Inula Helenium
Elecampane
Elecampane is strength and beauty. This gorgeous yellow flower stands tall in the garden when it blooms during its third year of growth. A special and courageous plant to grow and work with medicinally. It's root is used traditionally as a trophorestorative for the respiratory system. Elecampane lends itself as a great expectorant for a damp constitution, thanks to its warming aromatics and pungent qualities.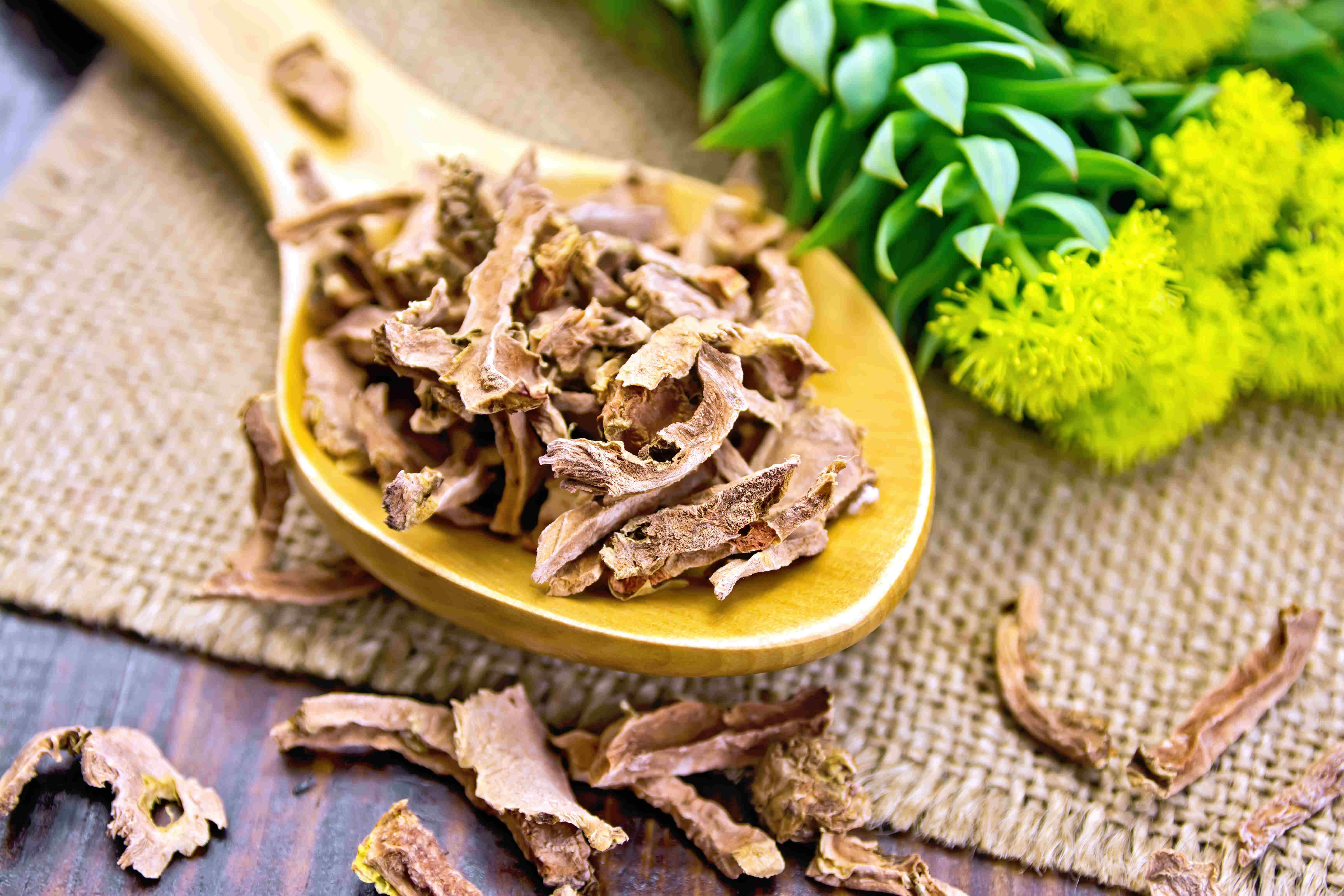 Rhodiola rosea
Rhodiola
Rhodiola gives the body a boost of energy, nudging our neurotransmitters along and supporting our overall mood, balance and circadium rhythm. It is a key herb in terms of supporting our HPA axis response and a valuable adaptogenic herb. In Scandinavia, Eastern Europe, Russia, Mongolia and other parts of Asia it has been used for centuries within traditional medicine systems as a tonic remedy for enhancing mental and physical performance, helping with altitude sickness, has been used for centuries to support during times in high altitude, boost mood and reduce fatigue.

It is also used as a remedy for colds and flus during the severe Siberian winter months. In Chinese medicine it is used to replenish qi and enters the heart and lung channels of the body.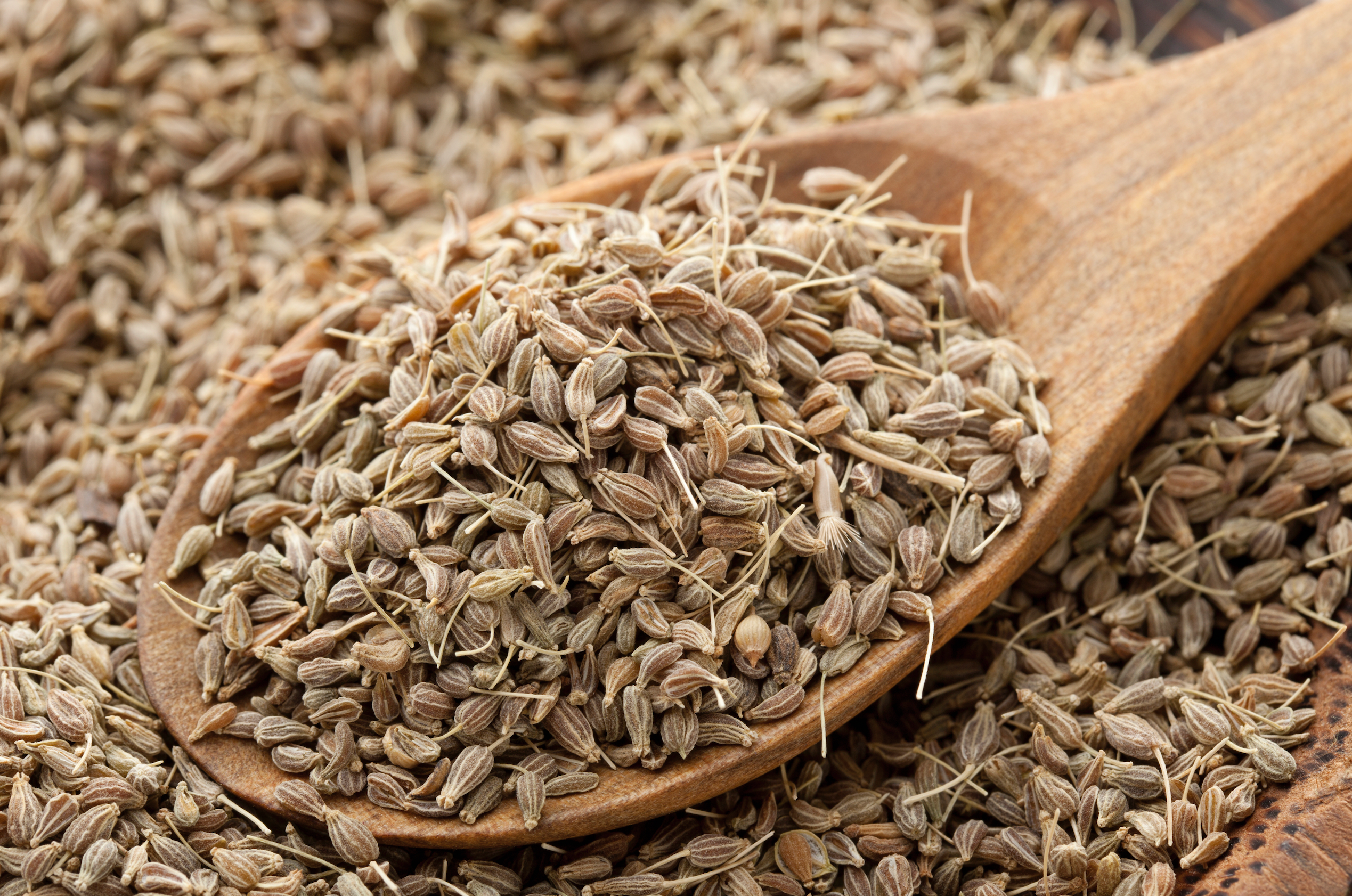 Pimpinella Anisum
Anise Seed
Anise seed is soothing to both digestion and our respiratory systems. Found in our Might Lungs Formula, anise seed has an affinity for dry and hard coughs and can also ease breaking up any mucus present in the lungs. Paired with honey, anise can help soothe and calm the throat.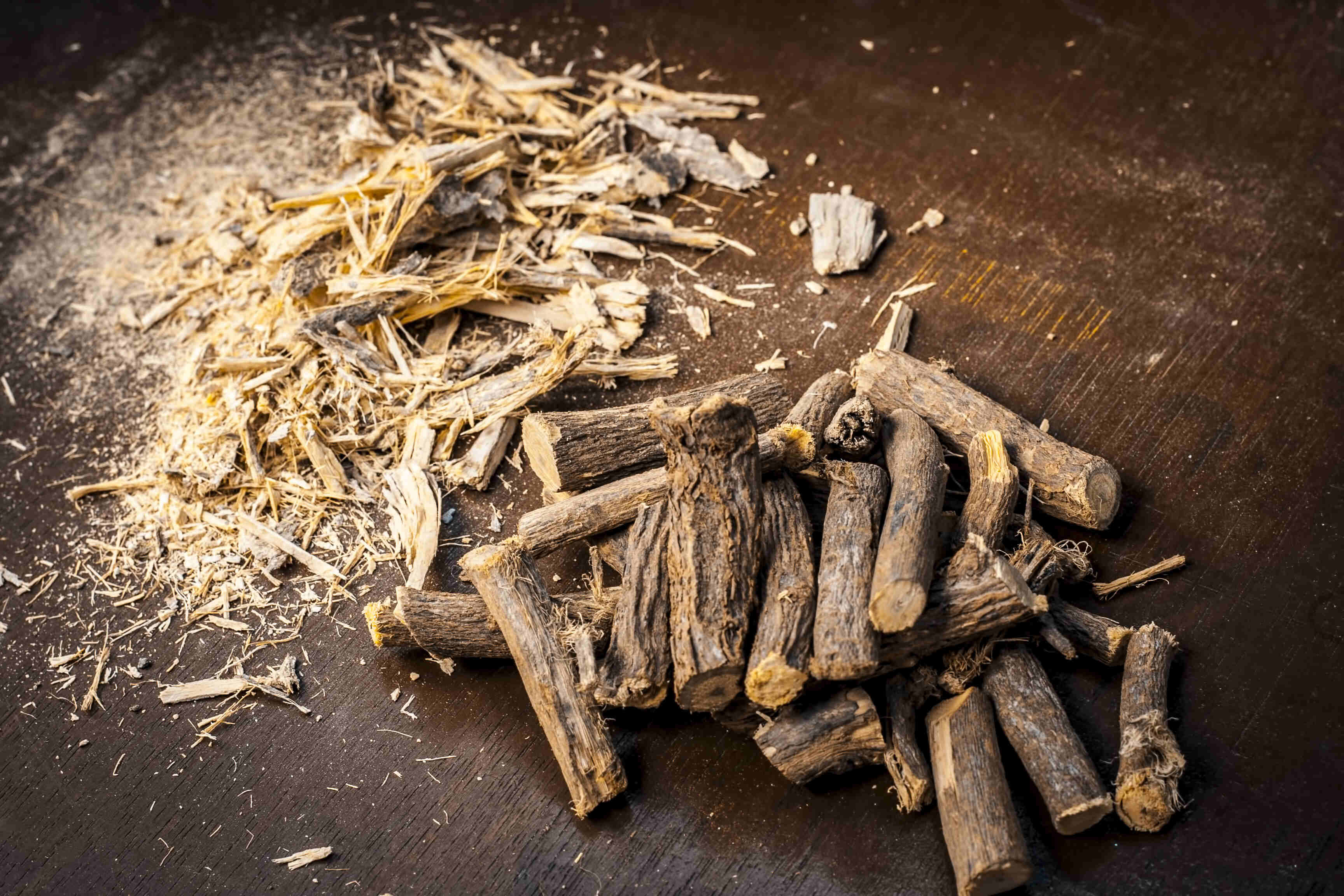 Glycyrrhiza Glabra
Licorice Root
Licorice has demulcent, moistening and cooling qualities. It assists in alleviating conditions related to hot, inflamed, irritated or dry tissue states. With an affinity for the throat and GI tract, licorice soothes the mucosal lining helping to produce an environment conducive for healing. Licorice is known as a harmonizer in many herbal formulas in Chinese medicine, entering all 12 meridians of the body.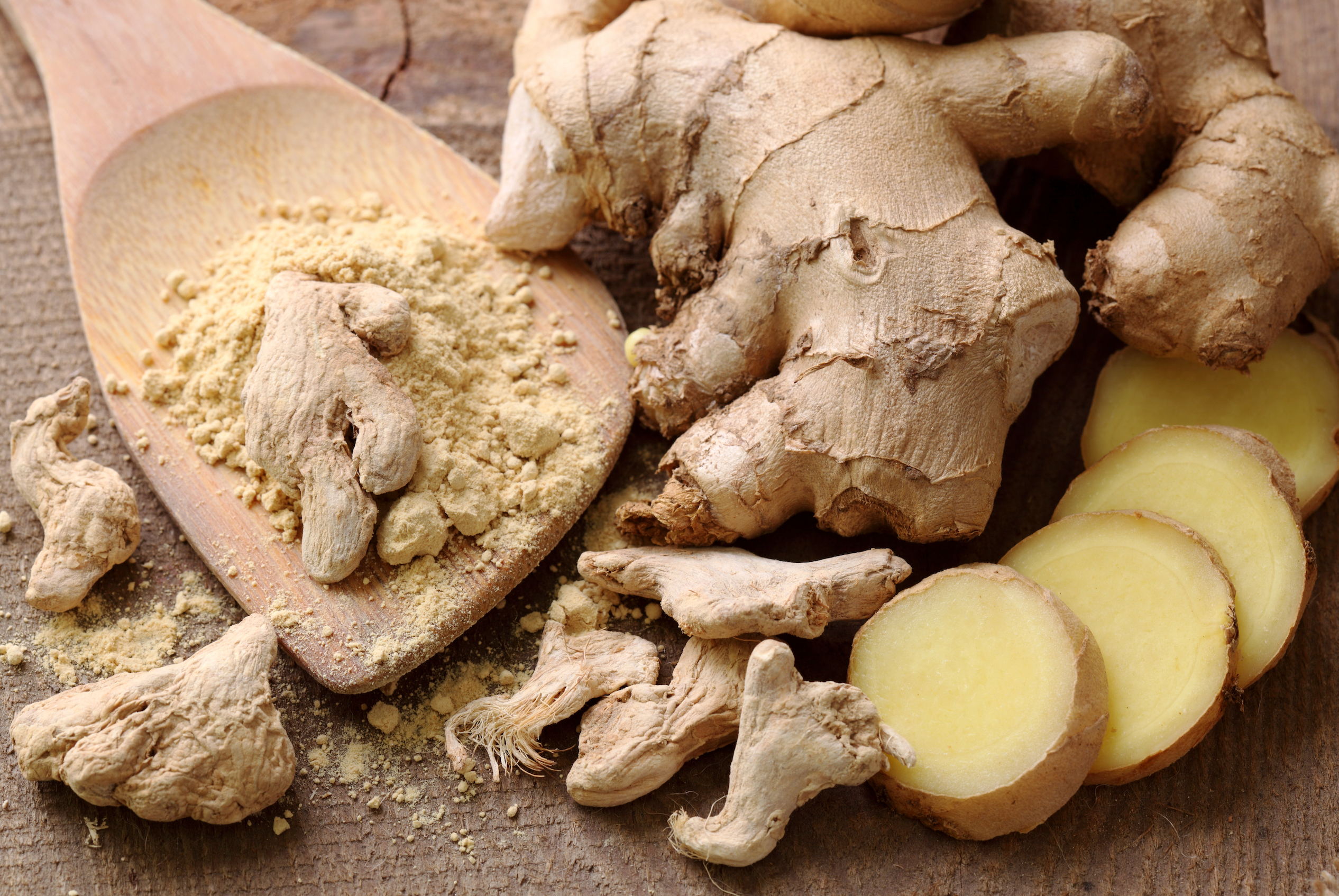 Zingiber Officinale
Ginger
Ginger is a powerful rhizome with traditional and modern usage spanning centuries, cultures and traditional medical systems. Found in cuisines and in our kitchens, ginger is a true example of food as medicine. Its a wonderful circulatory stimulant, heart tonic, digestive aid and infection fighting herb. Hot and dry, ginger has a diffusive effect on the body's vessels and organs, helping drive the effect of ginger, and other herbs with it, into the tissues.